Location | Course Agenda | Sponsors | Fees | Speaker
DATE AND UPDATED INFORMATION FOR 2020 EVENT COMING SOON
Earn up to 7 Clinical C.E. Hours with Dr. Gordon Christensen
Renaissance Hotel, Baton Rouge, LA
8 a.m. - Continental Breakfast/Packet Pick-Up
8:30 a.m. - C.E. Begins
Noon - Lunch is Provided
4:30 p.m. - C.E. Ends
Pre-registration is now closed. You must register on-site. Space is still available.
---
Thanks to Our Sponsors (as of 9-13-19):
Premier Events Partners
Platinum Sponsors:

Central Louisiana AHEC
Supporters:
Premier Events Partners

Supporters:
LDA Foundation
Louisiana Dental Services, Inc. (LDS)
---
2019 Last Chance Seminar Pricing
Category

(Available until 11/26/19)

Late Registration




(starting 11/27/19-12/11/19)



On-Site Registration





LDA Member

$209

$259

$284


ADA Member

$269

$319

$344


Non Member

$369

$419

$444


Hygienist

$169

$219

$244


Associate Member

$129

$179

$204


Other Staff

$129

$179

$204


Retired Volunteer License

$79

$129

$154


2018 Dental School Graduate

$109

$159

$184


Dental Student

$39

$89

$114


Spouse/Other, Lunch ONLY

$25

$50


$75



Refunds and Cancellation Requests
To receive a refund, all requests must be postmarked or sent no later than the day before each meeting begins. You may send your request to This email address is being protected from spambots. You need JavaScript enabled to view it. or fax to (225) 926-1886. Registration and course cancellation/refund requests must be in writing.

Cancellation Requests prior to Early Registration Deadline (11/20 or before)
• Refund requests for registration will be granted a full refund, less a $15 processing fee. The request must be received on or before each meeting's early registration date.
• Exceptions will not apply.

Cancellation Requests between Early Registration Deadline and the day before your meeting begins (11/20-12/12)
• Refund requests for registration fees will be granted a 50% refund less a $15 processing fee. The request must be received no later than 4 p.m. on the day before your meeting begins.
• Exceptions will not apply.

No cancellation requests or refund requests will be accepted or granted after the scheduled start to any meeting. This includes cancellations due to illness, late arrivals, weather, parking difficulties, or any other reasons.
---
Gordon Christensen, D.D.S., M.S.D., Ph.D.

A.M. Course Title: "What Technologies Do You Really Need and Why-2019?"
Many technologies are available for you! Which do you really need? Which are elective? Will the cost be equal to your return on the investment? Most importantly, which will improve patient care and increase the service you provide? This program includes the major dental technologies and compares their usefulness for your practice.
Behavioral Objectives:
On the completion of this presentation, participants should be able to:
List 20 technologies available for dental practitioners.

Select five technologies that appear to fit your practice.

Study the five technologies after finishing this course.

Implement the appropriate technologies into your practice.
P.M. Course Title: "Fifty Useful Clinical Tips-2019"

Every few years this course emerges again, because new and potentially useful products and techniques have evolved. This fast-paced program will keep you excited and awake as you determine if the information provided fits your practice. All topics are oriented toward improving services to your patients as well as increasing your productivity.
Behavioral Objectives:
On the completion of this presentation, participants should be able to:
List ten of the tips that apply to your practice.

Compare the concepts with whatever you are currently using.

Decide which to implement into your practice.

Implement the tips into your practice.
Gordon J. Christensen is Founder and Chief Executive Officer of Practical Clinical Courses (PCC), Chief Executive Officer of Clinicians Report Foundation (CR), and a Practicing Prosthodontist in Provo, Utah. Gordon and Dr. Rella Christensen are co-founders of the non-profit CLINICIANS REPORT FOUNDATION (previously named CRA). Currently, Dr. Rella Christensen is the Director of the TRAC Research Division of the CR Foundation. Since 1976, they have conducted research in all areas of dentistry and published the findings to the profession in the well-known CRA Newsletter now called CLINICIANS REPORT. Gordon's degrees include: DDS, University of Southern California; MSD, University of Washington; PhD, University of Denver; and two honorary doctorates. Early in his career, Gordon helped initiate the University of Kentucky and University of Colorado dental schools and taught at the University of Washington. Currently, he is an Adjunct Professor at the University of Utah, School of Dentistry. Gordon has presented thousands of hours of continuing education globally, made hundreds of educational videos used throughout the world, and published widely. Gordon and Rella's sons are dentists. William is a Prosthodontist, and Michael is a General Dentist. Their daughter, Carlene, is an Administrator in a biomedical company. He is a member of numerous professional organizations.
---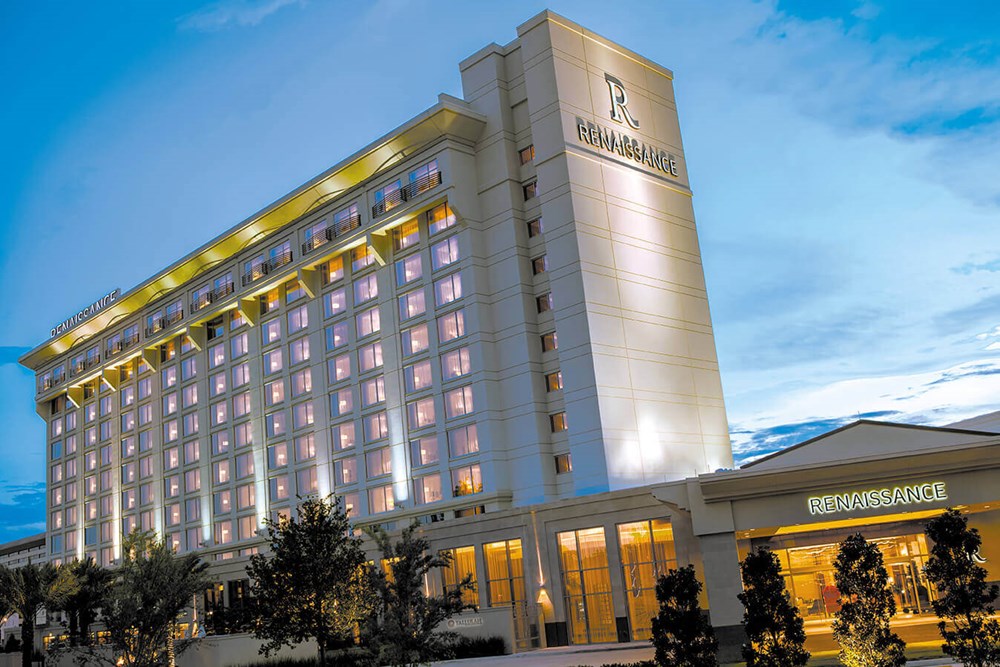 Renaissance Hotel
7000 Bluebonnet Blvd., Baton Rouge, LA 70810
To make reservations, call Renaissance reservations at (866) 469-5448 (tell them you are with the Louisiana Dental Association Group when you call to reserve your room). If you do not tell them you are with the group, you will not receive the group rate.

Rooms are available the night of Thursday, Dec. 12
Standard Room - $124
The reservation cutoff date is Monday, November 25, 2019. Call Jeanne at the LDA, if you need a room after this date 225-408-3294.
Hotel room rates are subject to applicable state and local taxes (currently 18.45%) in effect at the time of check-out. All reservations must be accompanied by a first night room deposit or guaranteed with a major credit card. NOTE: WHEN MAKING YOUR ROOM RESERVATION, PLEASE RESERVE THE ROOM IN THE C.E. REGISTRANT'S NAME OR INCLUDE THE C.E. REGISTRANT IN THE LIST OF PEOPLE STAYING IN THE ROOM.